AZ NICA recognizes coaches as the most essential component of successful mountain bike teams and we offer many opportunities and resources that can help you grow more comfortable and confident in your role as a coach.
The NICA Coach License Program was introduced to ensure that all Arizona League student-athletes have adult leaders familiar with the best coaching practices. All Licensed Coaches have been background checked and have received training in topics that include: Athlete Abuse Awareness, Risk Management, Coaching Philosophy, and have received Concussion Training.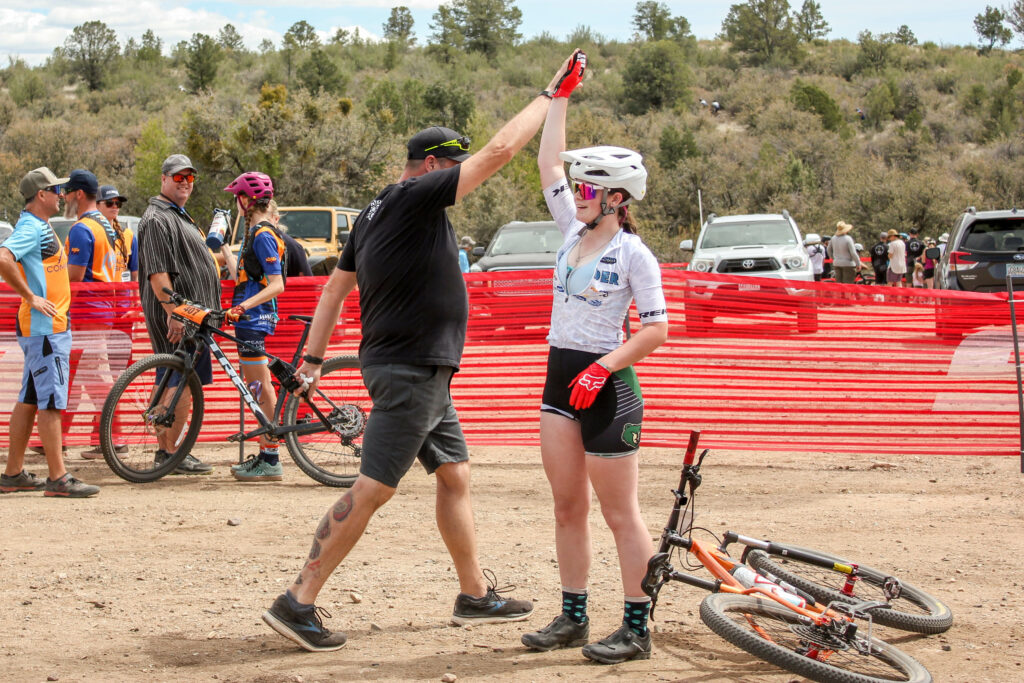 Coach License Levels
To work with our student-athletes, all coaches must meet the NICA licensure requirements at one of three levels:
Level 1 Certification: Assists all coaches as directed by the Head Coach.
Level 2 Certification: Assists level 3 coaches with advanced tasks such as teaching skills and leading rides.
Level 3 Certification: Takes a leadership role within the team. Equivalent competencies as Head Coach.
Coach Training
The Arizona League offers various opportunities for coaches to gain the confidence and skills needed to guide our student-athletes out on the trails. Much of the training offered is held in late Fall/early Winter ahead of the pre-season.
Leaders' Summits (Two Options):
Leaders' Summit Training is for head coaches or team directors starting a team or taking over a team. It is also appropriate for coaches seeking to advance their NICA license level or obtain CEUs to maintain their current license.
Not required for Level 1 coaches
Not required for level 2 coaches, but optional attendance can be used as 5 CEUs toward licensing requirements.
Required for coaches first obtaining a Level 3 license; optional attendance can be used as 5 CEUs toward maintaining the current license.
Option 1: In-person
In-Person Coach and Leaders' Summit is the best option for new to the league coaches as well as returning coaches wishing to gain some more in-depth practical skills and opportunities for sharing with coaches across the state. Attending a Leaders' Summit is a Level 3 requirement. Participants will join us and staff from NICA for a weekend filled with a hands-on approach to developing skills and knowledge, sharing strategies, and building community. This year's Summit will provide an opportunity for returning coaches to continue learning and growing as coaches and mentors, while also providing the opportunity to earn continuing education credits and the necessary components to achieve a higher coaching level. For new coaches, this is a great opportunity to learn about NICA and the AZ League and to prepare your journey of starting a new team or assisting an established team.
Option 2:Virtual
NICA National hosts virtual training that provides coaches the opportunity to learn the fundamentals of
what it means to be a NICA Coach while being able to interact with coaches from across the country! This
training is a great introduction to coaching, and perfect for new coaches.
Please contact jen@arizonamtb.org for a description of the online option available from NICA. This option is best for those coaches that cannot attend our in-person Leaders' Summit.
On-the-Bike Skills
Arizona Coach Supporters are experienced and trained coaches who teach coaches HOW to teach mountain bike skills to our student-athletes. On-the-Bike Skills 101 (a Level 2 requirement) teaches coaches how to teach fundamental mountain bike skills while On-the-Bike Skills 201 is designed for those coaches who actively teach skills for their team the opportunity to learn how to teach more progressive and advanced skills to their student-athletes.
First Aid
Mountain biking is an inherently risky activity and it is crucial for our coaches to be properly trained to handle injuries out on the trail. As the Arizona League is not a medical provider we are not able to provide our own training and must rely on opportunities available from outside licensed providers.
Level 2 Coach Requirement: Basic First Aid (4+ hours) for coaches practicing/riding within one hour of definitive care
and Wilderness First Aid (16 hours) for any coaches practicing/riding further than 1 hour from definitive care.
Level 3 Coach Requirement: NICA Approved First Aid (8 hours) for coaches practicing/riding within one hour of definitive care and Wilderness First Aid (16 hours) for any coaches practicing/riding further than 1 hour from definitive care.
Time to definitive care means approximately how long it would take for Emergency Medical Services to reach, evacuate, and deliver a critically injured patient to a hospital. 
For more information regarding the first aid requirements for Level 2 and Level 3 Coaches, please see the NICA Coach License Program – First Aid Requirements